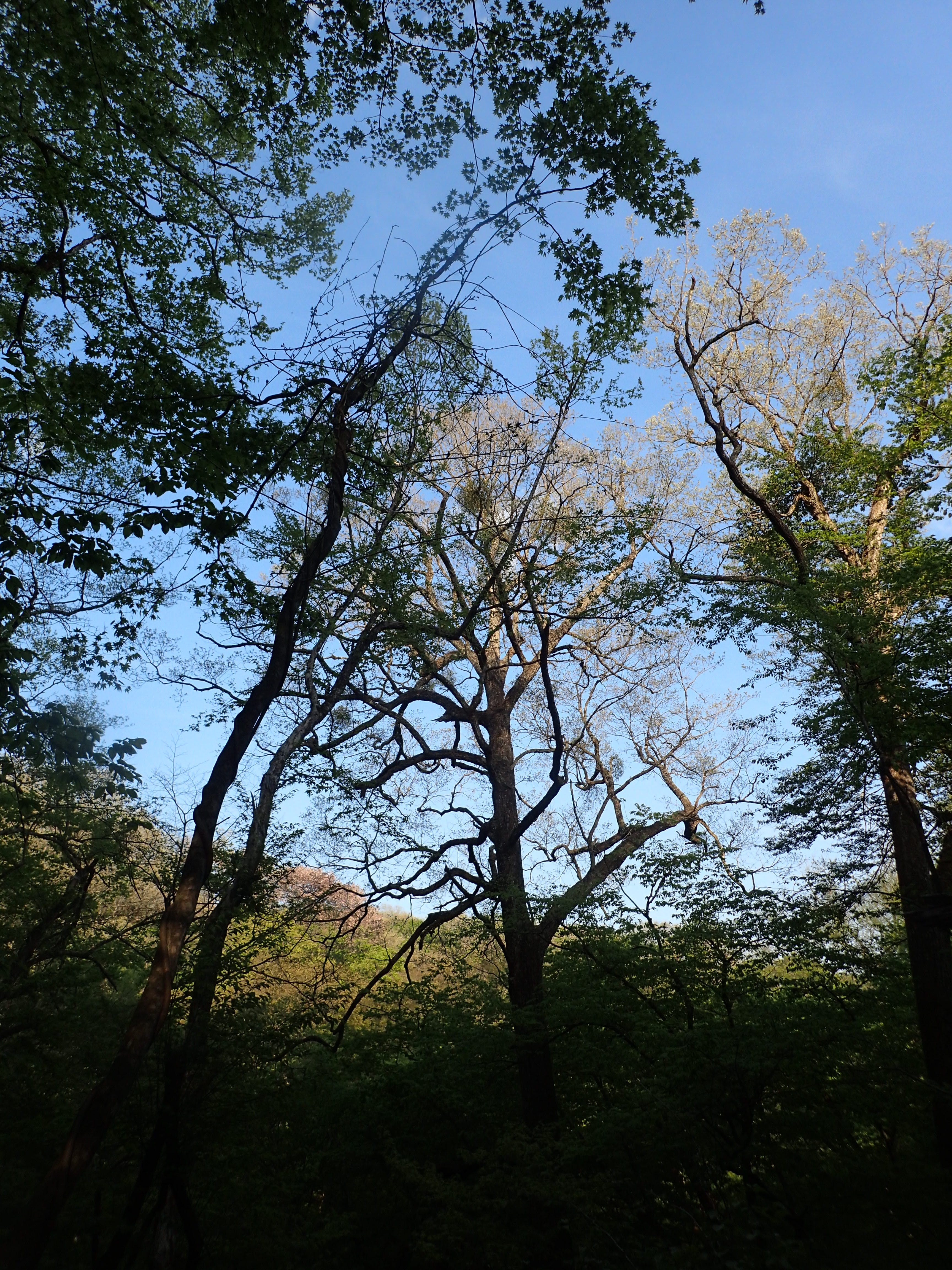 Publications
*Corresponding author
Peer-reviewed articles
1. Yoshihiro Yamazaki*, Shingo Kaneko, Shoji Naoe, Takashi Masaki, Yuji Isagi (2010)
Isolation and characterization of 11 microsatellite loci in Swida controversa (Cornaceae). Conservation Genetics Resources 2: 145-147. https://doi.org/10.1007/s12686-010-9276-4


2. Shoji Naoe*, Shoko Sakai, Ayako Sawa, Takashi Masaki (2011)
Seasonal difference in the effects of fragmentation on seed dispersal by birds in Japanese temperate forests. Ecological Research 26: 301-309. https://doi.org/10.1007/s11284-010-0783-2


3. Shoji Naoe, Takefumi Ikeda* (2011)
Hazard map for pine wilt disease in Kyoto city. Journal of Japanese Forest Society 93: 33-36. (in Japanese with English summary and figures) https://doi.org/10.4005/jjfs.93.33 FREE ACCESS


4. Takashi Masaki*, Kazuaki Takahashi, Ayako Sawa, Tomoyuki Kado, Shoji Naoe, Shinsuke Koike, Mitsue Shibata (2012)
Fleshy fruit characteristics in a temperate deciduous forest of Japan: how unique are they? Journal of Plant Research 125: 103-114. https://doi.org/10.1007/s10265-011-0423-0


5. Shoji Naoe*, Shoko Sakai, Takashi Masaki (2012)
Effect of forest shape on habitat selection of birds in a plantation-dominant landscape across seasons: comparison between continuous and strip forests. Journal of Forest Research 17: 219-223. https://doi.org/10.1007/s10310-011-0296-z


6. Naoki Katayama*, Tatsuya Amano, Shoji Naoe, Takehisa Yamakita, Isamu Komatsu, Shin-ichi Takagawa, Naoto Sato, Mutsuyuki Ueta, Tadashi Miyashita (2014)
Landscape heterogeneity–biodiversity relationship: effect of range size and conservation status. Plos One 9: e93359. https://doi.org/10.1371/journal.pone.0093359 FREE ACCESS


7. Lawrence Hudson* and 326 co-authors including Shoji Naoe as 210th. (2014)
The PREDICTS database: a global database of how local terrestrial biodiversity responds to human impacts. Ecology and Evolution 4: 4701-4735. https://doi.org/10.1002/ece3.1303 FREE ACCESS


8. Go Fujita*#, Shoji Naoe#, Tadashi Miyashita (2015) #Equal contribution
Modernization of drainage systems decreases grey-faced buzzard occurrence by reducing frog densities in paddy-dominated landscapes. Landscape and Ecological Engineering 11: 189-198. https://doi.org/10.1007/s11355-014-0263-x


9. Shoji Naoe*, Naoki Katayama, Tatsuya Amano, Munemitsu Akasaka, Takehisa Yamakita, Mutsuyuki Ueta, Misako Matsuba, Tadashi Miyashita (2015)
Identifying priority areas for national-level conservation to achieve Aichi Target 11: A case study of using terrestrial birds breeding in Japan. Journal for Nature Conservation 24: 101-108. https://doi.org/10.1016/j.jnc.2014.10.002


10. Akiko Fujitsu, Takashi Masaki, Shoji Naoe, Shinsuke Koike* (2016)
Factors that influence the quantitative seed dispersal effectiveness of avian frugivore behavior in a cool temperate forest. Ornithological Science 15: 75-84. https://doi.org/10.2326/osj.15.75 FREE ACCESS


11. Yoshihiro Yamazaki*, Shoji Naoe, Takashi Masaki, Yuji Isagi (2016)
Temporal variation in seed dispersal patterns of a bird-dispersed tree, Swida controversa (Cornaceae), in a temperate forest. Ecological Research 31: 165-176. 10.1007/s11284-015-1324-9

12. Shoji Naoe*, Ichiro Tayasu, Yoichiro Sakai, Takashi Masaki, Kazuki Kobayashi, Akiko Nakajima, Yoshikazu Sato, Koji Yamazaki, Hiroki Kiyokawa, Shinsuke Koike (2016)
Mountain-climbing bears protect cherry species from global warming through vertical seed dispersal. Current Biology 26: R315-R316. https://doi.org/10.1016/j.cub.2016.03.002 FREE ACCESS
Selected as a cover photo of the issue! Rock-climbing Asiatic black bear, Nikko, Japan (photo by Yoshihiro Umemura).
Featured by Science, EurekAlert!, Cell Press, NewScientist, Scientific American, Atlas Obscura, Science Daily, Phys.org, Polit, strf.nu, РИА Новости, Der Standard, ICI.Radio-Canada.ca
13. Shoji Naoe*, Ichiro Tayasu, Takashi Masaki, Shinsuke Koike (2016)
Negative correlation between altitudes and oxygen isotope ratios of seeds: exploring its applicability to assess vertical seed dispersal. Ecology and Evolution 6: 6817-6823. https://doi.org/10.1002/ece3.2380 FREE ACCESS


14. Shoji Naoe*, Shin Abe, Hiroshi Tanaka, Akio Akama, Tsutomu Takano, Yoshihiro Yamazaki, Akiko Fujitsu, Shota Harasawa, Takashi Masaki (2017)
Effects of the slope aspect and leaf mass on the radiocesium spatial distribution of fallen leaves of Quercus serrata. Journal of Japanese Forest Society 99: 34-40. (in Japanese with English summary, figures, tables) https://doi.org/10.4005/jjfs.99.34 FREE ACCESS


15. Lawrence* Hudson and 514 co-authors including Shoji Naoe as 329th. (2017)
The database of the PREDICTS (Projecting Responses of Ecological Diversity In Changing Terrestrial Systems) project. Ecology and Evolution 7: 145-188. https://doi.org/10.1002/ece3.2579 FREE ACCESS


16. Tetsuro Yoshikawa*, Shota Harasawa, Yuji Isagi, Natsumi Niikura, Shinsuke Koike, Hisatomo Taki, Shoji Naoe, Takashi Masaki (2017)
Relative importance of landscape features, stand structural attributes, and fruit availability on fruit-eating birds in Japanese forests fragmented by coniferous plantations. Biological Conservation 209: 356-365.
https://doi.org/10.1016/j.biocon.2017.02.040


17. Shoji Naoe*, Takashi Masaki, Shoko Sakai (2018)
Effects of temporal variation in community-level fruit abundance on seed dispersal by birds across woody species. American Journal of Botany 105: 1792-1801. https://doi.org/10.1002/ajb2.1173 FREE ACCESS
Recognized as one of the most read in American Journal of Botany!

18. Teruyoshi Nagamitsu*, Kato Shuri, Satoshi Kikuchi, Shinsuke Koike, Shoji Naoe, Takashi Masaki (2019)
Multiscale spatial genetic structure within and between populations of wild cherry trees in nuclear genotypes and chloroplast haplotypes. Ecology and Evolution 9: 11266-11276. https://doi.org/10.1002/ece3.5628 FREE ACCESS


19. Takashi Masaki*, Tohru Nakashizuka, Kaoru Niiyama, Hiroshi Tanaka, Shigeo Iida, James M. Bullock, Shoji Naoe (2019)
Impact of the spatial uncertainty of seed dispersal on tree colonization dynamics in a temperate forest. OIKOS 105: 1792-1801. https://doi.org/10.1111/oik.06236 FREE ACCESS


20. Shoji Naoe*, Ichiro Tayasu, Yoichiro Sakai, Takashi Masaki, Kazuki Kobayashi, Akiko Nakajima, Yoshikazu Sato, Koji Yamazaki, Hiroki Kiyokawa, Shinsuke Koike (2019)
Downhill seed dispersal by temperate mammals: a potential threat to plant escape from global warming. Scientific Reports 9: 14932. https://doi.org/10.1038/s41598-019-51376-6 FREE ACCESS


21. Yoshihiro Tsunamoto*, Shoji Naoe, Takashi Masaki, Yuji Isagi (2020)
Different contributions of birds and mammals to seed dispersal of a fleshy-fruited tree. Basic and Applied Ecology 43: 66-75. https://doi.org/10.1016/j.baae.2019.07.005


22. Hideki Mori*, Takashi Masaki, Yoshihiro Tsunamoto, Shoji Naoe (2020)
Survival rate and environmental response of current-year seedlings of the temperate liana Wisteria floribunda across a heterogeneous environment. Journal of Plant Research 133: 193-203. https://doi.org/10.1007/s10265-019-01163-1


23. Takashi Masaki*, Shin Abe, Shoji Naoe, Shinsuke Koike, Ami Nakajima, Yui Nemoto, Koji Yamazaki (2020)
Horizontal and elevational patterns of masting across multiple species in a steep montane landscape from the perspective of forest mammal management. Journal of Forest Research 25: 92-100. https://doi.org/10.1080/13416979.2020.1744231 FREE ACCESS

24. Nobuyuki Nagaoka, Shoji Naoe, Yu Takano-Masuya, Shoko Sakai* (2020) Green greenhouse: Leaf enclosure for fruit development of an androdioecious vine, Schizopepon bryoniifolius. Proceedings of the Royal Society B: Biological Sciences 287: 20201718. https://doi.org/10.1098/rspb.2020.1718
Featured by AFP, The Scientist and etc.

25. Kahoko Tochigi, Shuri Kato, Satoshi Kikuchi, Shoji Naoe, Shinsuke Koike, Teruyoshi Nagamitsu* (in press) Phenological shift along an elevational gradient and dispersal of pollen and seeds maintain a hybrid zone between two cherry tree species. Plant Species Biology. https://doi.org/10.1111/1442-1984.12311FREE ACCESS

26. Hino Takafumi, Yuri Kanno, Shin Abe, Tetsuto Abe, Tsutomu Enoki, Toshihide
Hirao, Tsutom Hiura, Kazuhiko Hoshizaki, Hideyuki Ida, Ken Ishida, Masayuki Maki, Takashi Masaki, Shoji Naoe, Mahoko Noguchi, Tatsuya Otani, Takanori Sato, Michinori Sakimoto, Hitoshi Sakio, Masahiro Takagi, Atsushi Takashima, Naoko Tokuchi, Shunsuke Utsumi, Amane Hidaka, Masahiro Nakamura* (in press) Assessing insect herbivory on broadleaf canopy trees at 19 natural forest sites across Japan. Ecological Research.

Submitting
Yoshihiro Tsunamoto, Shinsuke Koike, Ichiro Tayasu, Takashi Masaki, Shuri Kato, Satoshi Kikuchi, Teruyoshi Nagamitsu, Takashi Haraguchi, Tomoko Naganuma, Shoji Naoe* (preprint) Timing of fruiting rather than topography determines the direction of vertical seed dispersal by mammals and birds. bioRxiv https://doi.org/10.1101/2020.05.24.112987
Books
1. Shoji Naoe, Shoko Sakai, Ayako Sawa, Takashi Masaki (2008)
Effects of forest fragmentation on tree regeneration from bird-dispersed seeds in a temperate forest in Japan. In: Ichikawa M, Yamashita S and Nakashizuka T (eds.) "Sustainability and biodiversity assessment on forest utilization options." Nakanishi Printing Company, Kyoto. 295-301. ISBN 978-4-02325-17-1.


2. Shoji Naoe (2015)
My Forest Study: focusing on seed dispersal by birds. 141pp. Saera-Shobou. ISBN 978-4378039176. http://saela.co.jp/isbn/ISBN978-4-378-03917-6.htm (in Japanese)